LONE JUSTICE - The World Is Not My Home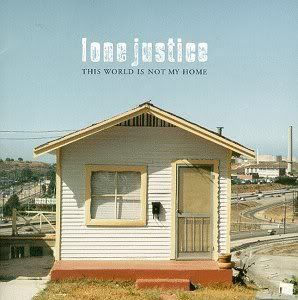 A mensagem de hoje serve para sossegar os fãs de MARIA McKEE e dizer que Peddlin' Dreams é um excelente regresso depois da relativa desilusão do disco do ano passado, High Dive. Há já algum tempo que andava cá por casa à espera de ser ouvido e a inércia provocada pelo desgosto com o disco anterior foi finalmente vencida quando, por saudade, regressei à magnífica colecção dos LONE JUSTICE, This World Is Not My Home. Aqui fica o apontamento do All Music Guide sobre este último e a promessa que voltarei com mais tempo e detalhe ao álbum de 2005 da MARIA McKEE:

This hot elegy album for the dearly departed Lone Justice is sheer rockabilly road-trip, as well as an illuminating artifact by a smart (albeit frustrated) "crossover" band. Blends of hardcore old-country roots and fast modern originality can be iffy on the charts, but the efforts of post-Emmylou Harris drummer Don Heffington, Little Steven collaborator Ryan Hedgecock on guitar, and bassist Marvin "Mandolin Man" Etzioni are committed. In typical Justice fashion all songs are tagged by the distinct Kate Pierson-meets-Dolly Parton vocals of Maria McKee; in Emmylou-like "East of Eden" we hear great drums behind a rambly hand jive riff and lots of big-hair yelling. Highway rocker "Ways to Be Wicked" is all tambourines and banshee vibrato, and dramatic Maria gets talkative on stage with the lovestruck "Sweet Sweet Baby." A foot-stompin' good-time record.